The Flowparagliders PANORAMA is the ENB rated tandem paraglider.
A glider made to share the stoke and freedom paragliding often delivers. Panorama will help you take your flight companion to that once "intangible realm" called "the dream of flight". Easier than ever.

We took attention to the flying characteristics of all the flying phases. Especially the handling, which is precise and direct with great authority. Launching is remarkably easy in both nil wind and strong wind. Landing is stress-free with great retention of energy to a perfect flare at landing.

Launching, Flying and landing resemble the feel of a solo wing. Light brake pressure is noticeable in the entire weight range.

Flow panorama has easy to use trimmers which offer 110mm of travel.

The combination of double coated Porcher Skytex 32g and 38g on top and 32g on the bottom surface is the most durable and light option available. We opted for this combination as a non-compromise approach giving the Panorama great durability and awesome handling.

Technical data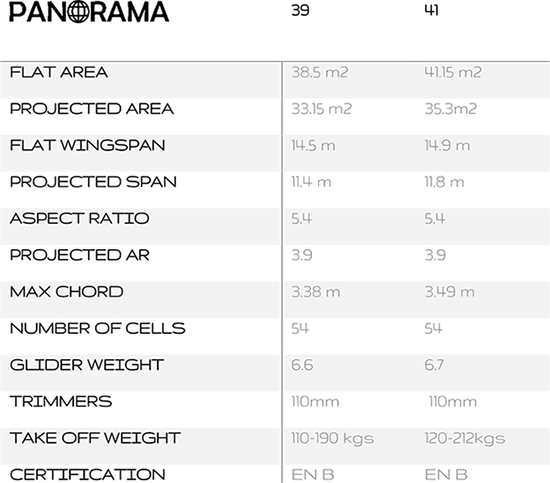 Colors
Materials
Rucksack
Comfortable with waist strap and adjustable chest strap
LARGE – 170lts
Colours: Lime/Black