Fusion is an EN C glider which offers breakthrough technology. The fisrt ever certified hybrid 3 to 2 liner with real rear riser steering. A new level of connection glider x pilot only experienced on "2 liners" before now on EN C class.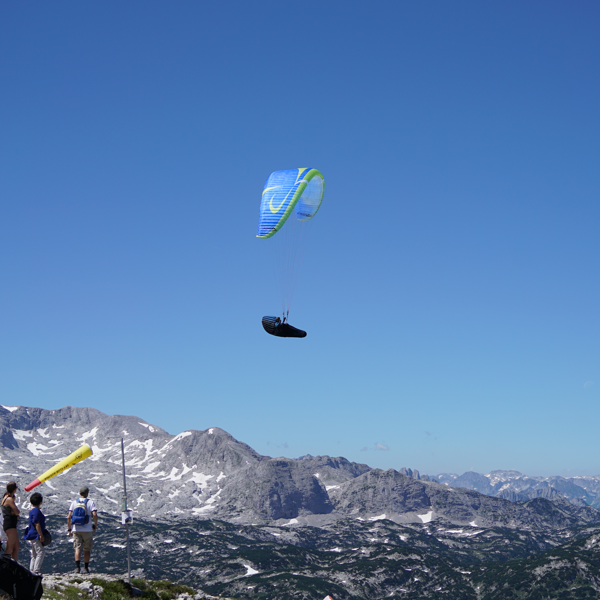 The Fusion was designed to be a performance orientated paraglider. Equipped not only with smart design solutions and modern technology to enhance perfomance but also to have the highest level of safety in one package. Special attention was given on the handling, especially the turning ability whilst circling in thermals. We are simply delighted by how the glider flies and it is hands down one of the most pleasant gliders we've ever flown, simply a joy to fly.
As the name suggests, we fused the technology learnt from our performance 2-liners, the XCRacer and Spectra and combined them in an accessible package. The Fusion is a hybrid 3 to 2 liner where we used the best of both technologies in one glider. The Fusion has its race pedigree on a obedient platform allowing increased levels of safety and glider control.
On cascade one and two we have a traditional 3 liner layout and on the outermost cascade, we have a 2 liner layout. To combine those 2 distinct line layouts we designed a sophisticated yet simple to use risers.
The C toggles will help the pilot feel more connected to the glider while gliding on accelerated flight as the inputs are more effective. Fusion risers allow the pilot to fly the glider while on bar changing AoA rather than distorting the profile. The result is a more enjoyable e efficient exercise and less need to come off the bar to use the brakes in severe turbulence.
We opted to use a very pitch stable aerofoil translating to a much enjoyable experience giving to the package a glider which is less prone to collapses and oscillations so the pilot is let do concentrate on what is more important, to read the conditions and fly with a freer mind.
The combination of all the design solution and technology results in a glider which is both a dream to fly but with an excellent level of true-performance of its class.
Technical data
FUSION
S
M
ML
L
FLAT AREA
22.95 m2
24.45 m2
26.3 m2
28.4 m2
PROJECTED AREA
19.56
20.89
22.47
12.30
FLAT WINGSPAN
12.07
12.48
12.94
13.50
PROJECTED SPAN
9.73
10.06
10.43
10.89
ASPECT RATIO
6.35
6.35
6.35
6.35
PROJECTED AR
4.86
4.86
4.86
4.86
MAX CHORD
2.38
2.45
2.54
2.59
NUMBER OF CELLS
68
68
68
68
GLIDER WEIGHT
TAKE OFF WEIGHT
75-90
80-102
92-115
105-130
CERTIFICATION
LTF/EN C *
LTF/EN C *
LTF/EN C *
LTF/EN C *
Colors
MATERIALS
CANOPY
FABRIC CODE
SUPPLIER
Upper surface
Porcher Skytex 32 soft
Porcher Industries – France
Bottom Surface
Porcher Skytex 32 sorf
Porcher Industries – France
Supported Ribs
Porcher Skytex 32 hard
Porcher Industries – France
Unsupported Ribs
Porcher Skytex 32 hard
Porcher Industries – France
Leading Edge Reinforcement
2.5/1.8/ Plastic pipe
Thread
210D/3, 420D/3
Coats Thread – Thailand
SUSPENTION LINES
FABRIC CODE
SUPPLIER
Upper Cascades
Edelrid 8000U 130/090/070/050kg – Edelrid 9200 030kg
EDELRID – Germany
Middle Cascades
Edelrid 8000U 190/130/090/070/050kg
Edelrid 9200 030kg

EDELRID – Germany
Main Lines
Edelrid 8000U 360/190/130/050kg
Liros DSL 140kg

EDELRID – Germany
LIROS GmbH – Germany

RISERS
FABRIC CODE
SUPPLIER
Shackles
Maillon Rapide
ANSUNG PRECISION – Korea
Riser Webbing
12mm zero stretch polyester webbing
Guth&Wolf GmbH – Germany
Pulleys
Pulleys Ronstan ball bearing
Ronstan – Australia
Rucksack
Comfortable with waist strap and adjustable chest strap
2 options:
Medium
Colours: Lime/Black
Download